We have grouped all of our handmade aromatic Eastern Red Cedar log furniture for sale below, as well as our rustic red cedar decor so you can outfit your entire country home or log cabin in this most pleasant smelling of woods in nature.
Eastern Red Cedar is actually not cedar but rather a species of juniper, which has a fine-grained wood pinkish brown wood that is very light yet durable. It is very fragrant and is a deterrent to moths so it is often used to line clothes drawers, but also makes beautiful and aromatic rustic furniture.
Our red cedar log furniture is handcrafted in America upon order, and generally ships within 4-6 weeks, and any order over $139 is delivered curbside free of charge in 48 states.
Thank you for shopping at Log Cabin Rustics for your red cedar log furniture needs. If you have any questions related to our red cedar log furniture for sale below, or any other item on our website, please do not hesitate to call us toll free at 866-923-6932. We would love to hear from you!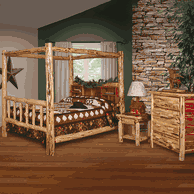 Red Cedar Log Bedroom Furniture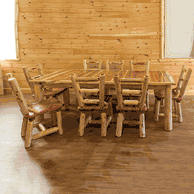 Red Cedar Log Dining Room Furniture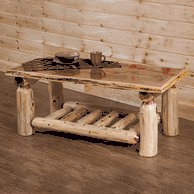 Red Cedar Log Living Room Furniture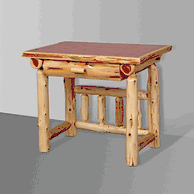 Red Cedar Log Office Furniture​