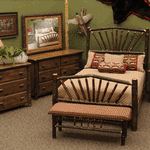 Log Cabin Rustics is pleased to offer you a complete line of solid hickory log furniture and other rustic decor for every room in your cabin, mountain lodge, or country cottage.
All of our hickory log furniture is "bark-on" and finished with 3 coats of protective varnish. Every piece is made in America and comes with a lifetime warranty on materials and workmanship.
Hickory is a very strong, flexible and durable wood. The Amish have perfected a method of steaming, then bending the hickory poles to make various unique pieces of furniture. After drying, the poles become very rigid and hold their shape.
Some of our rustic hickory pieces are steam-bent, some are not. The thicker pieces used on the beds, dressers and chests do not need to be bent. This decor is very beautiful when finished with a clear lacquer that goes right over the bark.
Thank you for shopping at Log Cabin Rustics for your bark-on hickory log furniture needs. All of our hickory log furniture for sale is handcrafted upon order and is usually shipped with 4-6 weeks. All orders over $139 are delivered curbside free of charge to 48 states. If you have any questions related to any item on our website please call us toll free at 866-923-6932.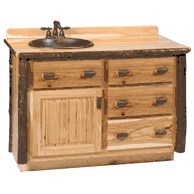 Hickory Log Bathroom Furniture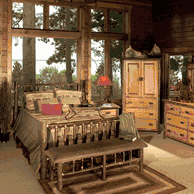 Hickory Log Bedroom Furniture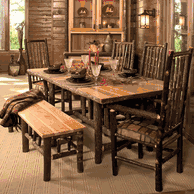 Hickory Log Dining Room Furniture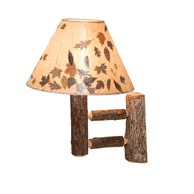 Hickory Log Furniture Decor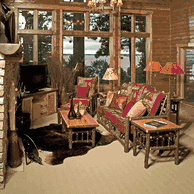 Hickory Log Living Room Furniture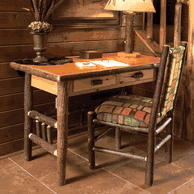 Hickory Log Office Furniture