Log Cabin Rustics is pleased to carry many different varieties of rustic nightstands for sale made from authentic reclaimed wood and logs of different wood types. Pair them up with matching rustic beds, chests, armoires and dressers. The styles of our rustic nightstands include basic, one-three drawers and enclosed. One of our rustic nightstands is sure to tickle your fancy, and they are proudly made in America and delivered free of charge to 48 states.
Our rustic nightstands are meticulously handmade in America upon order and are typically delivered within 4 weeks.
Thank you for shopping at Log Cabin Rustics for your rustic nightstand needs. If you have any questions regarding our rustic log nightstands or reclaimed wood nightstands, please call us toll free at 866-923-6932 and we will be pleased to assist you.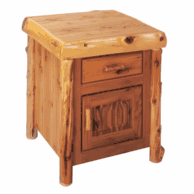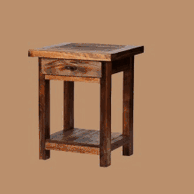 Reclaimed Wood Nightstands