Rustic Dressers and Rustic Chests
Accessorize your rustic bedroom with our beautiful handmade rustic dressers and chests for sale. We offer these practical rustic dressers and rustic chests in many different styles and finishes. Browse our genuine reclaimed wood dressers and solid log dressers and chests below and you will be sure to find something that will appeal to your rustic style.
All of our rustic dressers and rustic chest of drawers are handcrafted in the USA for you upon order and generally delivered within 4-6 weeks. All orders over $139 will be delivered to your curbside for free to 48 states.
Thank you for shopping at Log Cabin Rustics for your rustic dresser and rustic chests needs. If you have any questions regarding our rustic dressers or rustic chests, please call us toll free at 866-923-6932 and we will be pleased to assist you.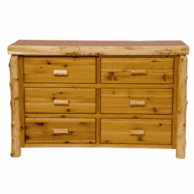 Log Chests & Log Dressers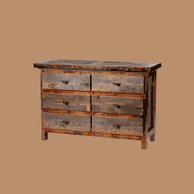 Reclaimed Wood Chests & Dressers