If you are limited by space, or budget, instead of purchasing an entire bed frame, a rustic headboard may just be the ticket for you. Below are our rustic reclaimed wood and log headboards that we have for sale.
Even if you saw a bed style elsewhere on our site, but you do not see it in our headboard groupings, give us a call toll free at 866-923-6932 as most of our manufacturers are eager to accommodate. All of our rustic headboards for sale are handcrafted in the USA upon order, and are generally shipped within 4 weeks. All orders over $139 are eligible for free curbside delivery to 48 states.
Thank you for shopping at Log Cabin Rustics. If you have any questions related to our rustic headboards, please do not hesitate to call us toll free at 866-923-6932 and we will be pleased to assist you.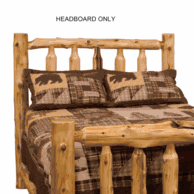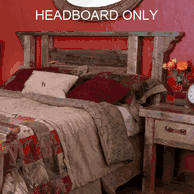 Reclaimed Wood Headboards