A genuine antler chandelier and other antler lighting will make great pieces of rustic nature art and decor to complement our log furniture, and here at Log Cabin Rustics we offer one of the internet's largest selections of real antler chandeliers.
Our skilled artisans can craft you an authentic antler chandelier from six different animal antlers – moose, elk, mule deer, whitetail deer, axis deer and fallow deer – and we have many different antler chandelier styles to choose from.
Each antler chandelier is handmade in Colorado, USA and the antlers were collected from the wild after the deer, elk, and moose no longer needed them – no animals were harmed in the making of our antler lighting.
Bring a renewable piece of wild nature into your mountain retreat or log cabin with our rustic furniture and authentic antler chandeliers and antler lighting.
All of our antler chandeliers are custom made upon order, and are usually delivered within 4-6 weeks. The electrical wiring is artfully hidden within the antlers to make the most natural looking antler chandelier. Our antler chandeliers are delivered free of charge to your curbside in 48 states. Mounting hardware (chain, canopy, eye-bolt, etc.) and mounting instructions are included with each antler chandelier.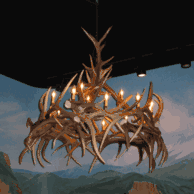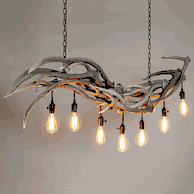 Axis Deer Antler Chandeliers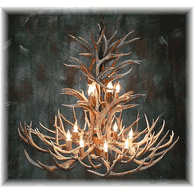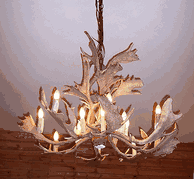 Fallow Deer Antler Chandeliers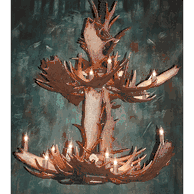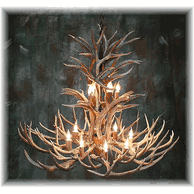 Mule Deer Antler Chandeliers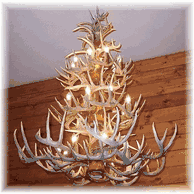 Whitetail Deer Antler Chandeliers