Log Cabin Rustics is proud and excited to offer all three collections of rustic Amish log furniture by Montana Woodworks.
These rustic furnishings are handcrafted from Lodgepole Pine logs that are sustainably and environmentally consciously harvested in the Kootenai National Forest. Lodgepole Pines are chosen due to their superior strength to weight ratio and the natural straightness of the logs.
Montana Woodworks harvests only "dead standing" Lodgepole Pines, and after felling, each log is hand-carried to the road to ensure the landscape and surrounding natural environment is not damaged.
After the harvested logs have been sufficiently dried, the Amish log furniture manufacturing can begin. Each log is hand-peeled using a drawknife, and this process removes the outer bark, while leaving the inner bark, or cambium, in tact. The resulting log now has a rich texture with a beautiful contrast.
The Montana Woodworks Amish Furniture is designed to have a one-of-a-kind look that is reminiscent of the early 1900s Grand Lodges of the Rockies. This rustic furniture is assembled using round mortise and tenon joinery, which provides a strong and sturdy construction intended to last a lifetime and more.
After the log furniture pieces are assembled, they are sanded and inspected. Finally, the pieces are completed using an 8-step stain and lacquer finish ensuring durability and low maintenance.
Montana Woodworks offers a 20-year workmanship and materials warranty on all of their Amish furniture. Montana Woodworks usually ships orders within 7-10 business days, and delivery is free to 48 states for orders over $139.
The three collections by Montana Woodworks are as follows:
Glacier Collection– Lodgepole Pine Log Furniture, outer bark removed, inner bark left on, comes standard with 8-step stain and lacquer finish.
Homestead Collection– Lodgepole Pine Square-Cut Furniture, all bark removed, comes standard unfinished. Staining and finishing is optionally available.
Montana Collection– Lodgepole Pine Log Furniture, outer bark and most of inner bark removed, comes standard unfinished. Finishing is optionally available.
NOTICE – Like all log furniture, our furniture is subject to Checking, and may variy in color, grain pattern, character, insect tracks and texture.  No two pieces of our rustic wood furniture will look exactly the same.  Each piece of wood may absorb stain and/or finish differently, and the color of our furniture can vary from the images shown on your computer.  If you are looking for a specific color of wood, we recommend you contact Log Cabin Rustics before purchasing your furniture pieces.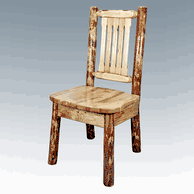 "Glacier Country" Collection by Montana Woodworks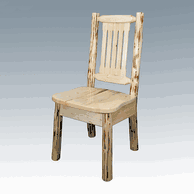 "Homestead" Collection by Montana Woodworks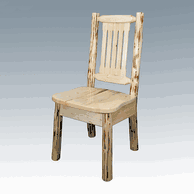 "Montana" Collection by Montana Woodworks